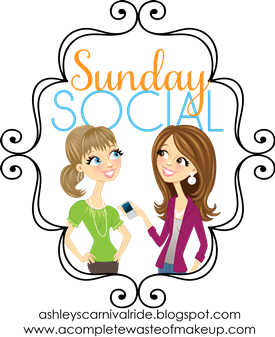 What is your favorite ice cream flavor?
Anything with chocolate is fine with me!
What is your favorite smell?
I love the smell of apples, especially Yankee Candle's Macintosh
What is your favorite commercial?
I like Maria Bamfo

rd as the crazy Target lady.
What is your favorite day of the week?
Fridays are nice. Hubs gets off work early, and if I have done all our errands early

, we can spend a lazy evening together.
W

hat is your favorite way to waste time?
What is yo

ur favorite article of clothing?
I have an addiction to goofy, colorful socks. Since its winter, I prefer knee high socks. They are so much fu

n!
If you would like to link-up, answer the questions, grab the button & link up at:
Ashley's Carnival Ride Sunday Social
.
T
hen visit
Created By Laurie
for the
Meet & Greet blo
g hop!